Landing the first job with any of the top law firms of India is a dream come true for any law student. And why not, as working with these law firms means fraternity recognition, good clientele and deals that make headlines. But after a few years of experience, priorities often shift toward coveting a more differentiated role, perhaps even keeping better hours and striking a work-life balance—fuelling a recent talent trend.
Churn at the Big Law
India has observed a paradigm shift in how law firms operate in the last few years. Law professionals are increasingly looking for a more sustainable career path. This has resulted in an increased number of professionals looking to move in-house. The trend has been complimented by corporates wanting to boost their in-house legal teams.
With increased international regulations and a need to 'innovate safely' in the ever-changing business landscape, companies are looking for super-specialized talent who can help them execute at a certain speed and scale. Add to that, a high appetite for growth and you have the perfect recipe for bringing in special in-house talent that can help achieve the vision.
The drift is especially visible across the Indian Big Law (see Figure 1) where one can see a massive churn of talent moving to corporates. Native has conducted a study on the shift from 2016- 2020 with more than 450 in-house lawyers who've switched to working for some of the largest corporates.
Figure 1 shows the break-up of the talent shift from some of the biggest law firms in India.
The trend has only been increasing over the years. Consider Figure 2—a jump from 6 to 36 percent within just two years. Even in 2020, while the overall numbers had decreased due to the pandemic, the trend continue.
Interestingly enough, it's the technology, media, and telecom (TMT) sector that had the biggest share of the pie followed closely by banking, financial services, and insurance (BFSI). The infra and industrial sector has been the next to catch on. Even so, the variety of industries shown in Figure 3 is indicative of the popularity of the trend.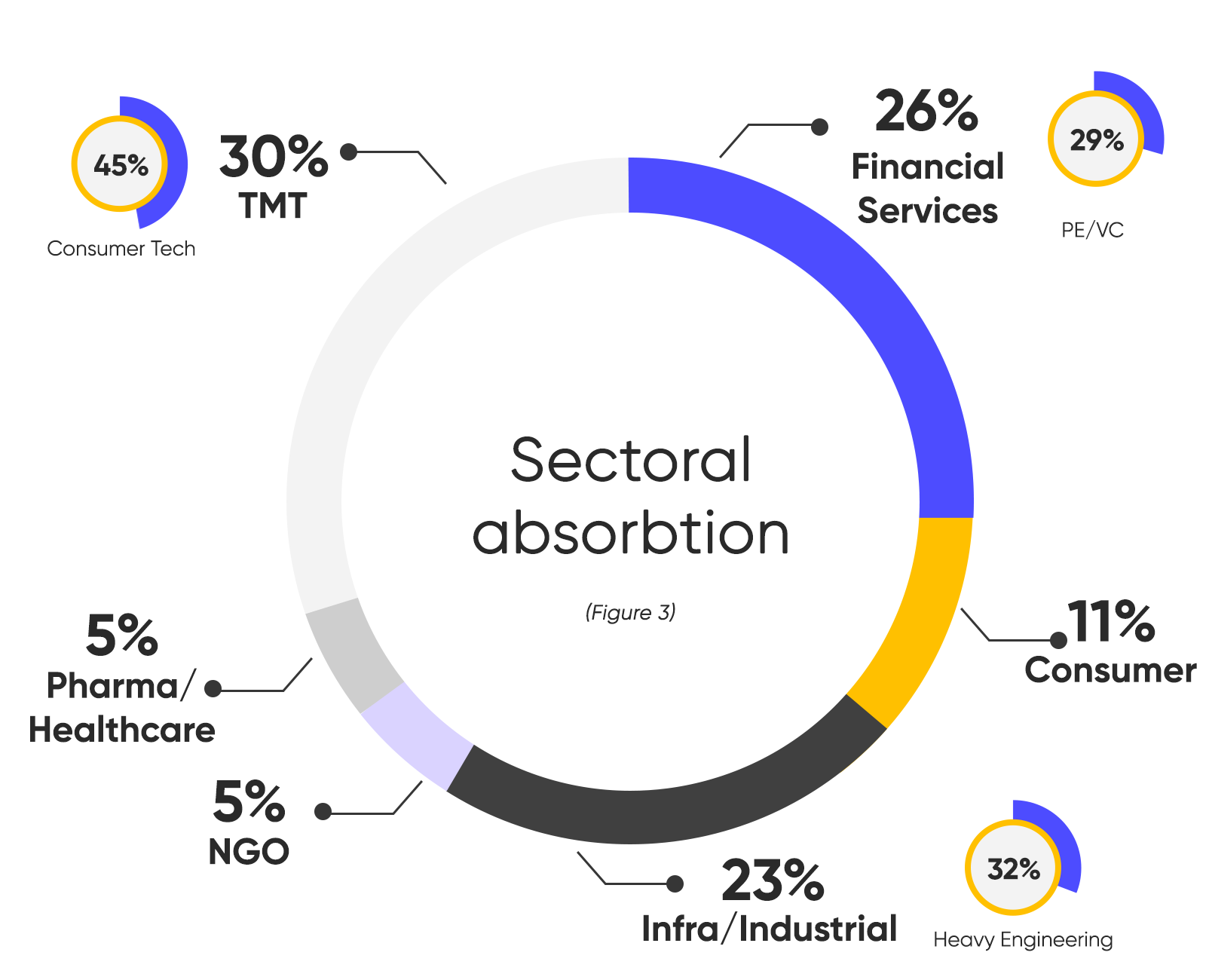 What does this mean for the law talent, itself? Attractive senior positions with a differentiated role and leading teams with a niche set of skills (see Figure 4).
Next, high-profile switches. While not necessarily the norm, see the talent drift from some of the biggest law firms in the country to C-suites at different companies (see Table 1).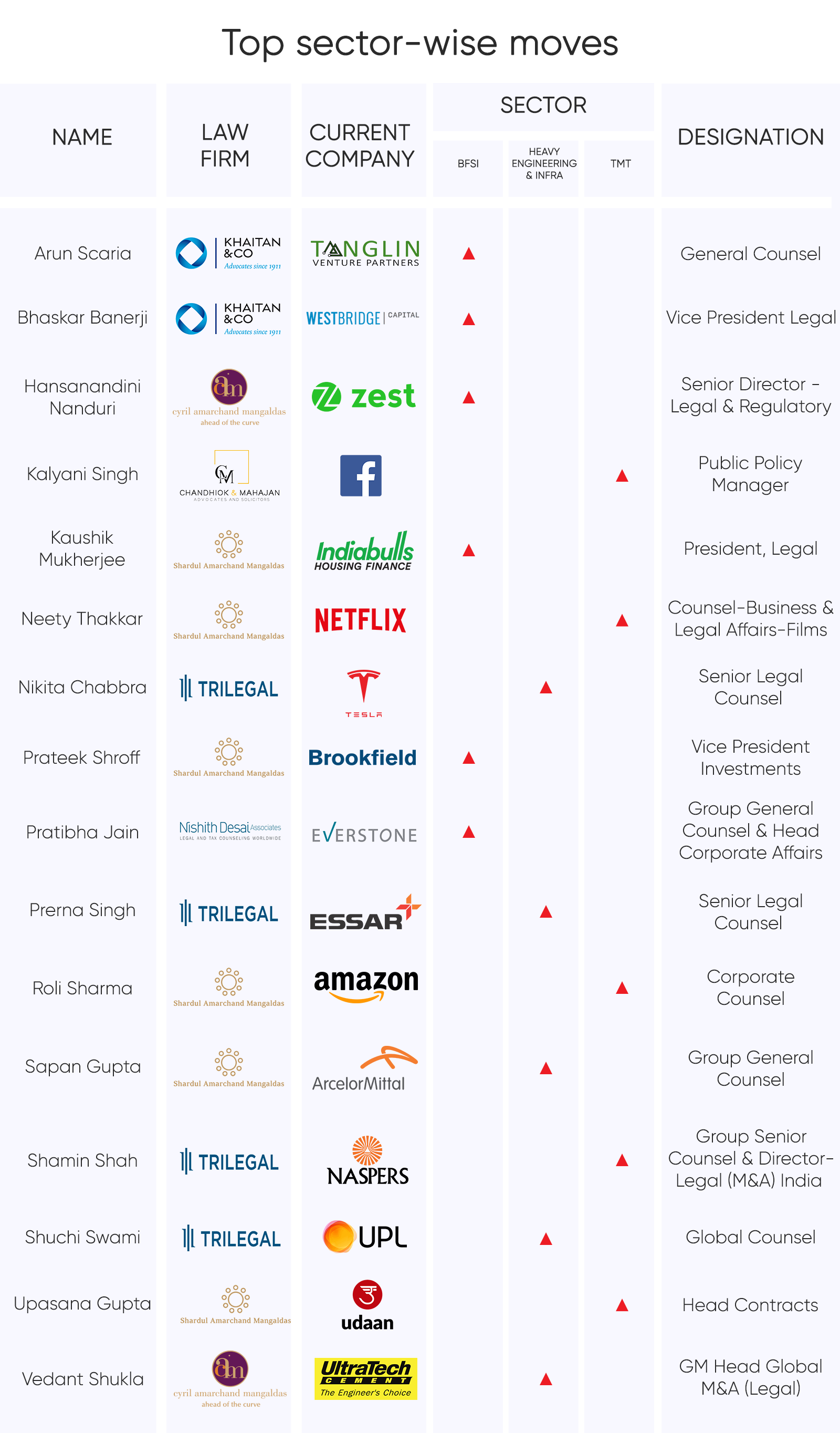 An even exciting by-trend is an increasing number of lawyers donning the entrepreneurial hat. From founding learning platforms to leading clean-tech mobility solutions, pet stores to social media giants, they are breaking new ground (see Table 2).
It's not surprising then that the ways of working in corporates have undergone a major shift. With in-house legal teams, companies are now sharper in defining their business issues and seeking counsel from law firms.
We continue to see a surge in demand for fine legal professionals from  law firms as technology leveraged newer industry segments continue to grow and traditional industry segments become more cautious on governance and compliance.
Covering the initial groundwork themselves within the industry-specific context, there's now an ask for niche legal expertise. Companies are also more confident when it comes to meeting regulatory requirements.
Given the incredible business value, we believe the trend is only going to continue at full throttle— especially in new-age sectors such as consumer tech and Fintechs. Even in start-ups, investors are increasingly encouraging legal counsel in the core team. We also foresee an increasing demand for talent specialization in M&A, PE, and capital markets for senior in-house roles. Such strategic hiring will lead to better and stronger business outcomes and ultimately, help companies stay differentiated and continue to win.
To contact, email at anuja.bose@nativeworld.com