It's a team that has a stake in, literally, every talent decision in your company. Whether it's providing insights on people trends, attracting the most skilled workforce , managing the employee lifecycle or furthering organizational development, they've got it all covered for you. We are talking about the talent that builds the rest of the talent for your company—your HR Team.
But where does the top talent in this function come from? What are their career paths in a modern-day enterprise? Which sectors attract the crème de la crème and where are they headed in the post-pandemic world?
Native's latest study has some deep insights. We studied the career journey of more than 950 HR professionals (from 2006 to 2015) from top institutes such as SCMHRD, XLRI and TISS to bring you this insightful report
From functional skills like Talent Acquisition (TA) to Talent Management (TM), Learning & Development (L&D) to Organizational Development (OD), we covered multiple HR functions to learn all about the talent shifts.
Here's what we found:
1. Most preferred Functional Role for HR
More than 50% of talent continues to work under the HR Business Partner (HRBP) function followed by other functions such as L&D, TM and OD, Rewards, etc. Figure 1 showcases the split.
2. Sectors Pulling Top HR Talent?
Default answer is— Tech companies. Over the past few years, a whopping 30% of HR talent from the top-ranking institutes have been absorbed in this sector, pointing to a paradigm shift in talent trends. Figure 2 shows the analysis:
Further, in figure 3 let's look at a functional split of this talent in the top sectors:
3. Stratification Change – Young CHROs?
Figure 4 showcases that 42% of Top HR Talent in the country are CHROs from the graduating batches of 2010 -2015 of XLRI, TISS and SCMHRD. This is a tectonic shift on the talent hiring strategy across new age growing companies preferring a younger breed of leaders to hiring tenured CHROs from established setups.
4. Fourth, how can we miss the charm of .coms?
Just as in any other talent pool, the adventure of building something new hasn't left this group untouched. A whopping 41% of pedigreed talent has joined these new-age businesses and enterprises.
Figure 6, shows some high profile moves from the traditional sectors to the new age companies
5. HR Taking Business roles too
Interestingly, about 11.3% of the total HR talent pool from these premiere institutes is also opted for business roles (see Figure 7) indicating an interesting shift.
Native also did analysis on the classification of the top talent basis their gender and location, (Check Figure 8 and 9)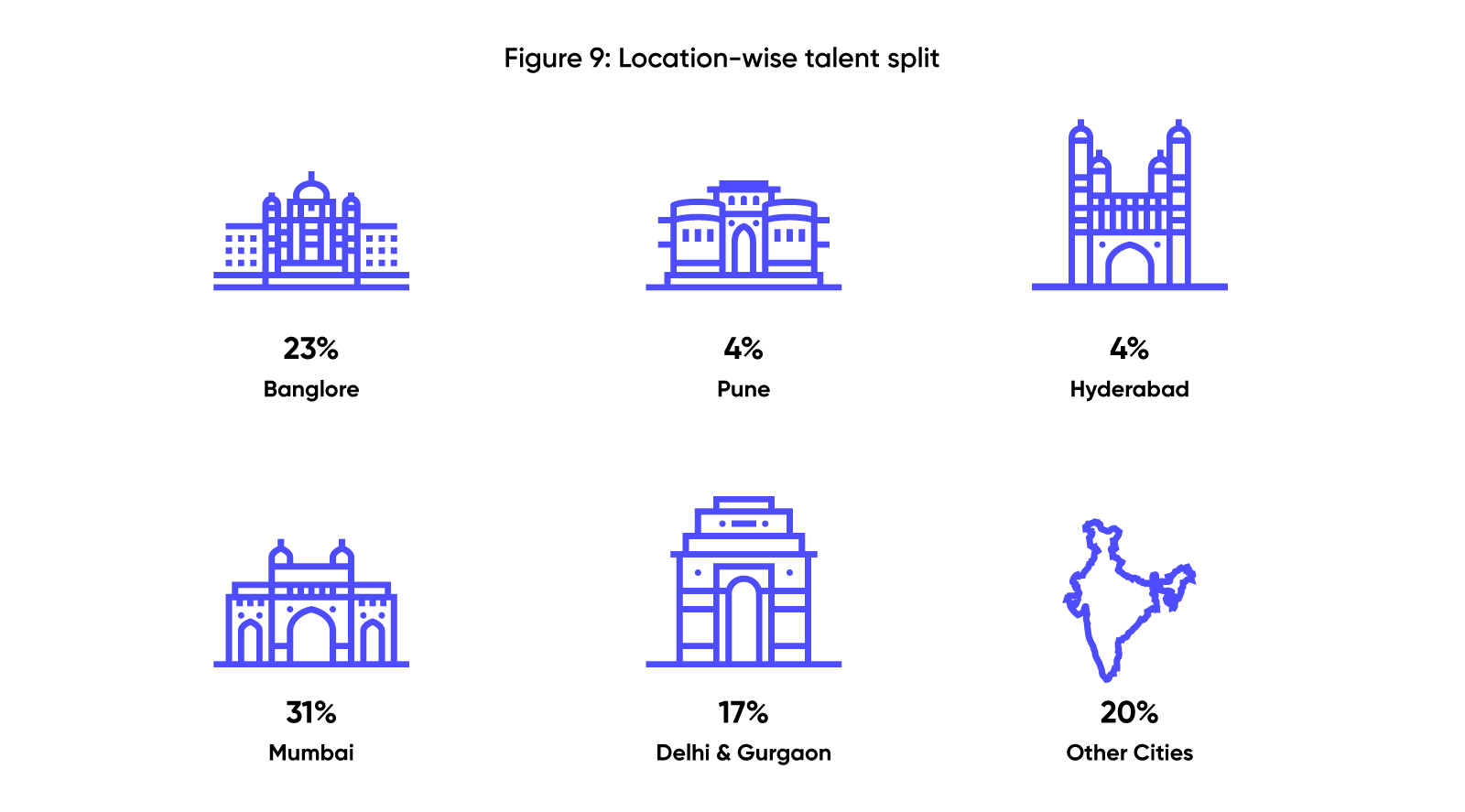 The talent connoisseurs
Most modern enterprises are continuously striving to create future-ready talent and build sustainable business practices. The HR community in any company plays a critical role in bringing about these outcomes. Today HR is no longer seen as a support function but as an enabling one, working closely with the business on key areas such as cost management, efficiency & productivity parameters and profitability. This is creating a huge talent market, especially in the technology sector and start-ups. Most tech companies are graduating towards flatter hierarchies, eager to partner with young talent. They are also blurring the traditional roles, offering top HR talent opportunities to shift to business roles or even change management.
It's an agile and exciting landscape for the HR talent community and companies with a vision for winning the future know that this is the way forward to meet their strategic goals.