India, long known for its old economy tech giants, is now a ripe breeding ground for successful startups. Young professionals are quitting esteemed consulting firms and taking up a myriad of managerial roles at the said startups. To give more context to this, India today, boasts the third-largest number of Unicorns in the world. 
The ultimate unicorn checklist calls for a disruptive product that has a clear need in the market, along with the right strategy for scaling up. Thus, developing and executing a master plan demands a need for highly skilled talent at an executive level. 
McKinsey, Boston Consulting Group ('BCG') and Bain & Company ('Bain'), or the 'MBB' as they are popularly called, are the three largest strategy consulting firms in the world and the breeding ground for some of the best minds. Despite the prestige, hefty compensation and a labyrinth of mentors to fall on, approximately 1200+ consultants from MBBs in India went on to occupy diverse roles in a wide range of Unicorns, Soonicorns, Minicorns and various tech startups in the last decade (2011-2021). Out of the 1300+, Native discovered that 46% of opt-outs were from McKinsey, while BCG and Bain contributed 28% and 26%  of the overall opt-outs to tech startups. 
McKinsey also contributed the most to the leadership hires by furnishing 67 C-level executives in the last decade. Also, 75+ consultants founded their own startups after leaving McKinsey, while around 40 consultants from BCG and Bain combined did the same.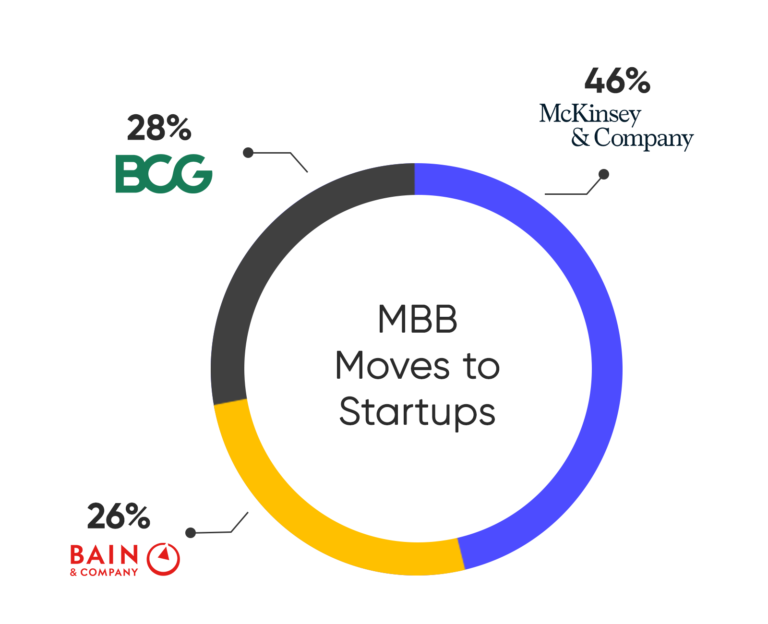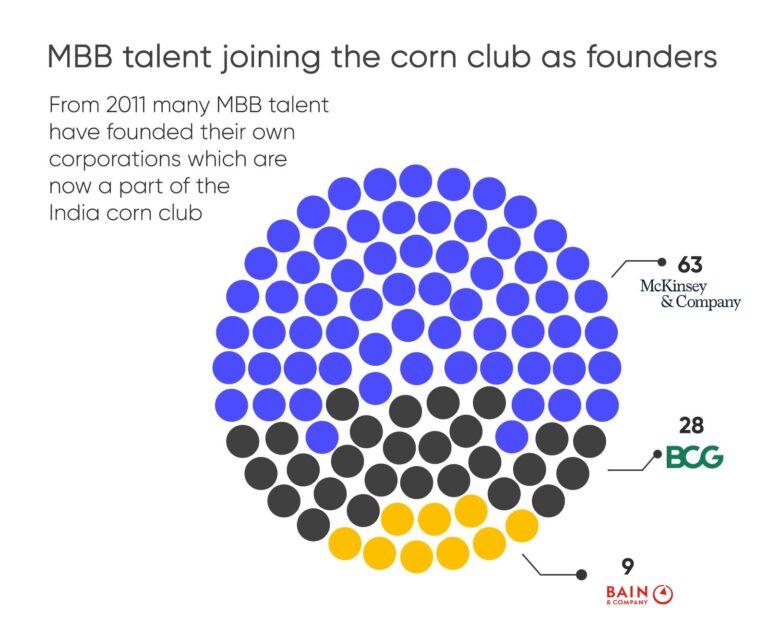 MBB have their own premium standards of operation and hence the talent quality is highly filtered on academic excellence and intellectual rigour. Almost 45% of MBB's talent holds an IIM A, B and C pedigree along with an IIT's foundation.
Native also noticed that 35% of ex-MBB consultants call Delhi and its surrounding region (NCR) their place of business while 19% and 18% of them work in Indian business hubs of Bangalore and Mumbai respectively. 11% of them, however, took the skills they acquired to other parts of the world.
MBB continues to donate its brains to the 'Corn Club'. Each year, a sizable number of highly skilled and passionate people quit their jobs at the MBB and take up various managerial and executive positions in the Unicorns and Soonicorns. However, there have been some once-in-a-while high-level transfers where a person is either a Unicorn founder or occupies one of the positions at the executive level.
According to a joint report that was undertaken by Nasscom and Zinnov, not only is India on track to have a Unicorn club that is 50+ members strong by the end of this year but this number is projected to cross triple digits by 2025. With the ever-increasing number of Unicorns and Soonicorns entering the Indian market, the demand for MBB talent is set to skyrocket. 
These businesses would require employees ranging from skilled to highly skilled to manage the day-to-day operations and take over the managerial and executive roles within the companies. With the increase in demand, consultants from the three biggest consulting firms – McKinsey, BCG and Bain-will continue to migrate and shape up the Unicorns and startup ecosystem in India.